When I was little, my dad was into making slides of all his photos. Consequently, I have very few photographs of me when I was small because they are all in slide form. My sister came down on Friday with a surprise--she had all the slides transferred to disk and so now I have them all loaded on my computer--hooray! Even though I was too young to remember all this stuff, these pictures have given me valuable insight into family history and why my family is the way they are now. Insight #1: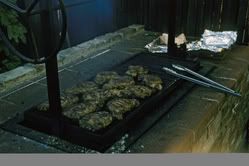 Why we are all fat. Food was everywhere, and judging from the pictures, treated just like family. Insight #2:
Why it is so important to me to be a stay at home mom no matter what. This was our grocery store. After my dad left, my mom worked from 8am to 10pm six days a week until she got rid of it when I was nine years old. I was raised by my grandma, great aunt, and a German lady named Margaret. Insight #3 (a biggie):
Why I fell in love with an alcoholic. That's my dad two-fisted drinking there. Enough said, except I believe I have learned from my experience and hopefully won't be making that mistake again.
Sorry if this post is a little dark. I should note that most of these slides were of get-togethers of family, baseball games, family vacations, etc. and there were a lot of fun and happy times. I was 2 or 3 years old and don't really remember:
I can say that the reason I grew into a compassionate, loving, optimistic and happy person is because of this gal here, my mom:
I sure miss her!